About
Lean Coffee Table helps distributed teams to run effective 'agenda-less' 'Lean Coffee'™ meetings. Lean Coffee™ is a wonderfully simple idea developed by Jim Benson and Jeremy Lightsmith. Check out leancoffee.org for more on their ideas and guidelines on running an effective session.
Whilst nothing can improve upon a Lean Coffee™ around a physical table – we want to enable distributed teams to be able to conduct these rapid and effective conversations.
How it works
Setting up a board
Anyone can set up a Lean Coffee™ and invite attendees by email
Participants click on the email link in the invitation and can start to add topics they would like to discuss to the board
Running the Lean Coffee™
The person who set up the board facilitates the session
Participants vote on the topics that they want to discuss
Topics are ranked by the number of votes and moved into the 'To discuss' column
The top topic is moved into 'Discussing' and the facilitator starts the 5 minute timer
At the end of the 5 minutes, participants decide if they want to carry on the discussion by clicking on the 'thumbs up' or 'thumbs down' buttons
If there are more 'ups' than 'downs' then the discussion continues for 2 minutes. If not, the group moves onto the next topic in the 'To Discuss' column
This continues until the end of the timebox, typically 45 – 60 minutes.
Once the session has finished participants and facilitators can review, or delete, previous boards they have attended.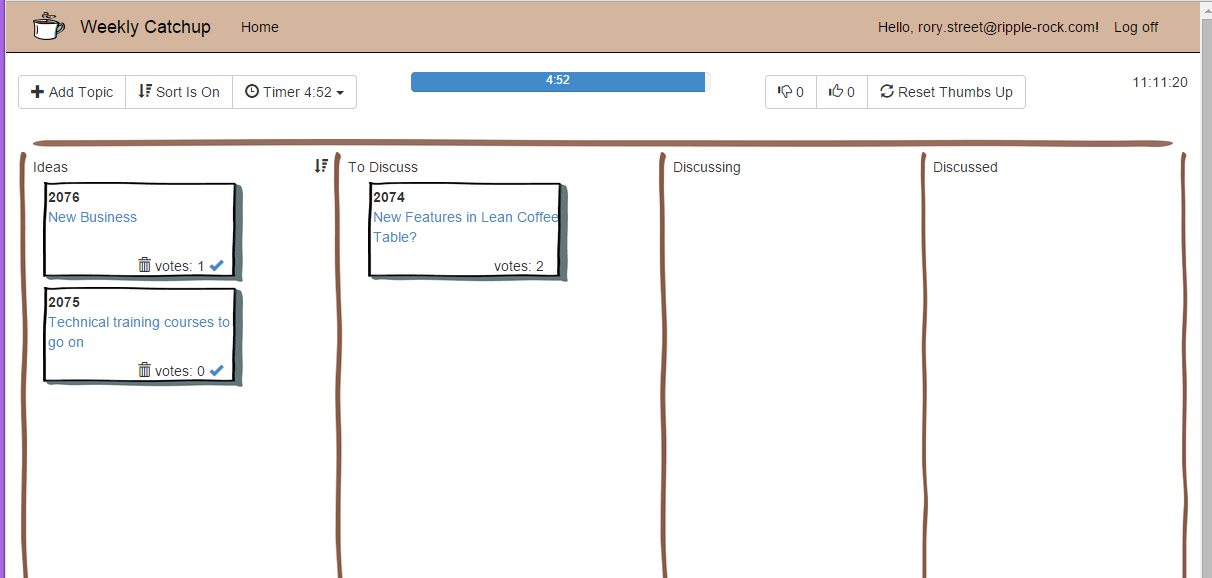 Origins of Lean Coffee Table
We use Lean Coffee™ at our clients and have found it to be a great way to have energised, effective discussions on the topics that are piquing the interest of the people that happen to be around the table at that moment.
We tried to do Lean Coffee™ for our weekly 'RippleRock Sync' meeting, where our consultants dial in from different locations, mostly home, on a Friday. We tried other tools, like Lync and Skype and found that they got in the way of a seamless experience - so we decided to write our own applications which evolved rapidly to become Lean Coffee Table.
Rory Street wrote Lean Coffee Table and would love to hear your thoughts and suggested improvements.
---