Adding more facilitators to your Coffee Club Subscription
Add/Remove a facilitator to a Coffee Club
Changing the name of your Coffee club
When you start a new subscription, you will be asked to select your plan (the number of facilitators), enter your Coffee Club name and your payment details.
Coffee club structure
The 'Coffee Club' is set up when you first register for Lean Coffee Table.
All Facilitators must belong to a 'Coffee Club', even if there is only one of you.
Note: A facilitator cannot be a member of two Coffee Clubs.
All the facilitators within a Coffee Club can run sessions on their boards, or on boards created by fellow facilitators who have invited them to their boards. For example, this enables a facilitator to run the session if the original facilitator can't make it.
Upgrading Subscriptions
Adding more facilitators to your Coffee Club Subscription
You can upgrade your subscription at any time to add more facilitators e.g. from 2 to 5 facilitators
Note: Only the Coffee Club owner (the person who originally setup the Coffee Club) can increase the number of Facilitators in that club and assign club membership.
1 - Click on upgrade on the top menu

2 – Choose your new level of plan and click on 'Select Plan'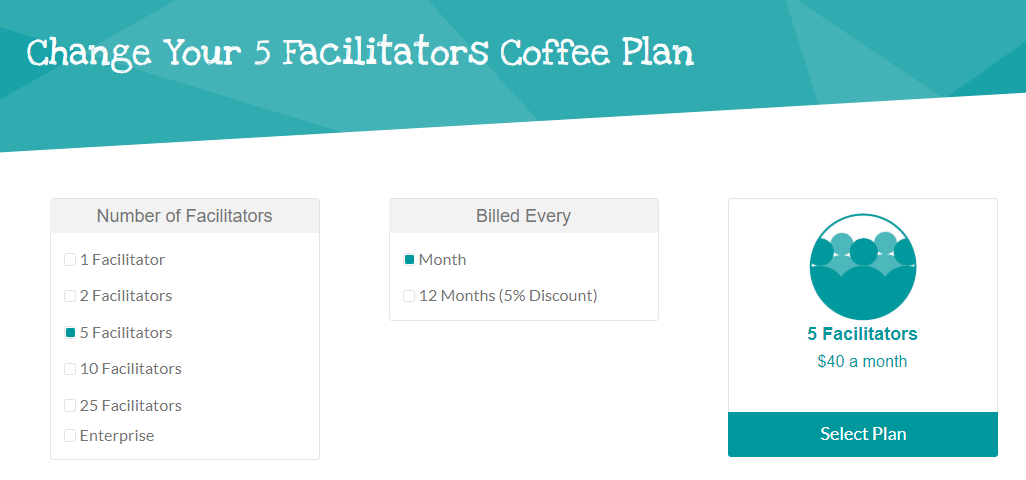 3 – You will see this confirmation screen. Then go to 'Manage Coffee Club Facilitators' to invite users to your Coffee Club.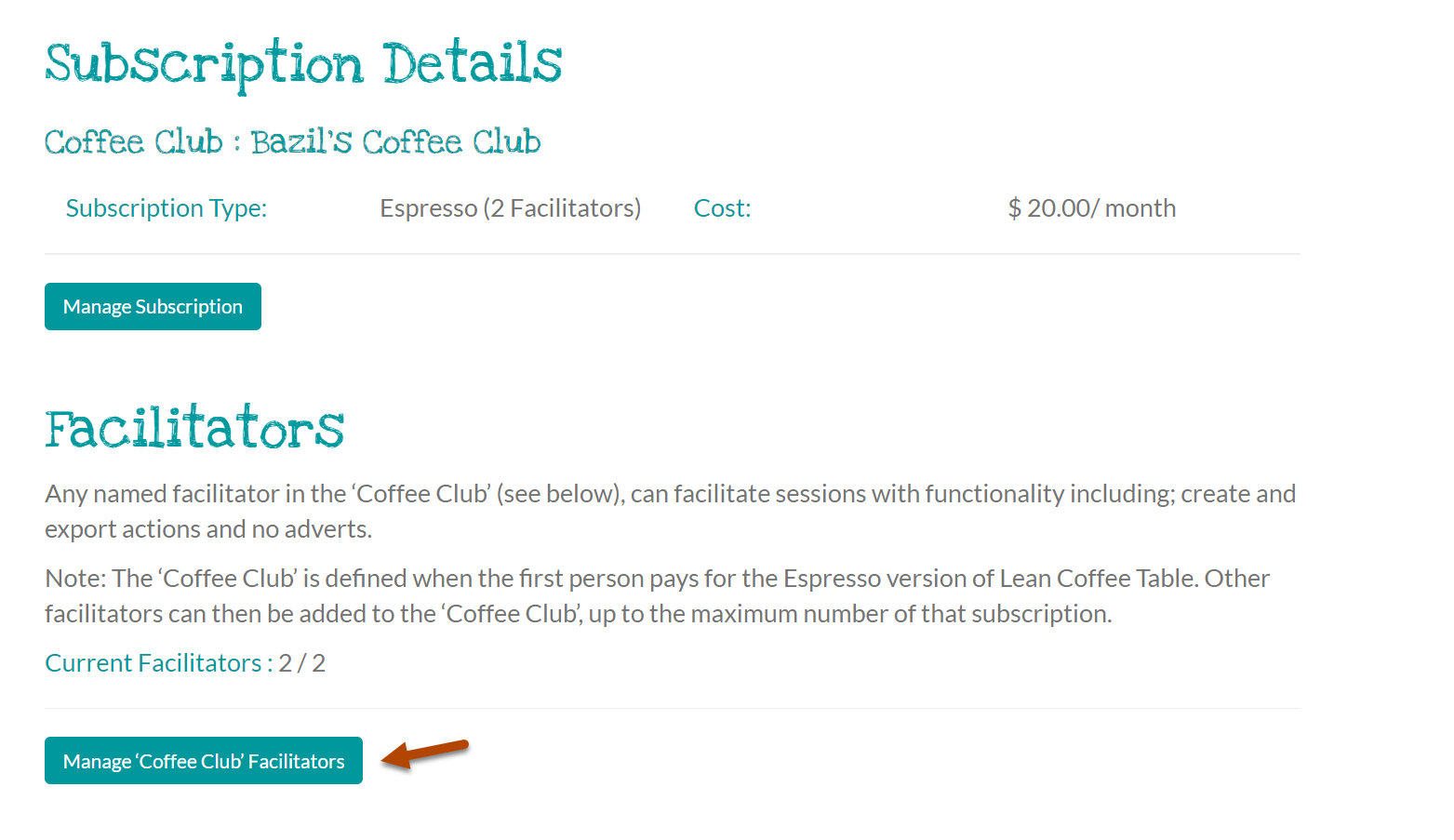 Add/Remove a facilitator to a Coffee Club
You can add a new facilitator to your club if you
Have a spare slot in your membership subscription i.e. you currently have 2 facilitators in a 5 facilitator plan
You replace an existing facilitator by first removing the previous one and then adding the new one
Click on the Admin button
Step 1 – Add or remove facilitators

You can add or remove facilitators from your Coffee Club by clicking on Manage 'Coffee Club' facilitators.
Remove a facilitator from your Coffee club using the 'Remove' link after the username of the person you wish to remove. To add a facilitator, type their email address and click the + to add them.
Note: If you have already reached your facilitator limit then you will first need to remove an existing facilitator before you can add a new one, or upgrade your subscription.
Note: Once you have removed someone from being a facilitator in your club you will NOT be able to add them back again to the same Coffee Club.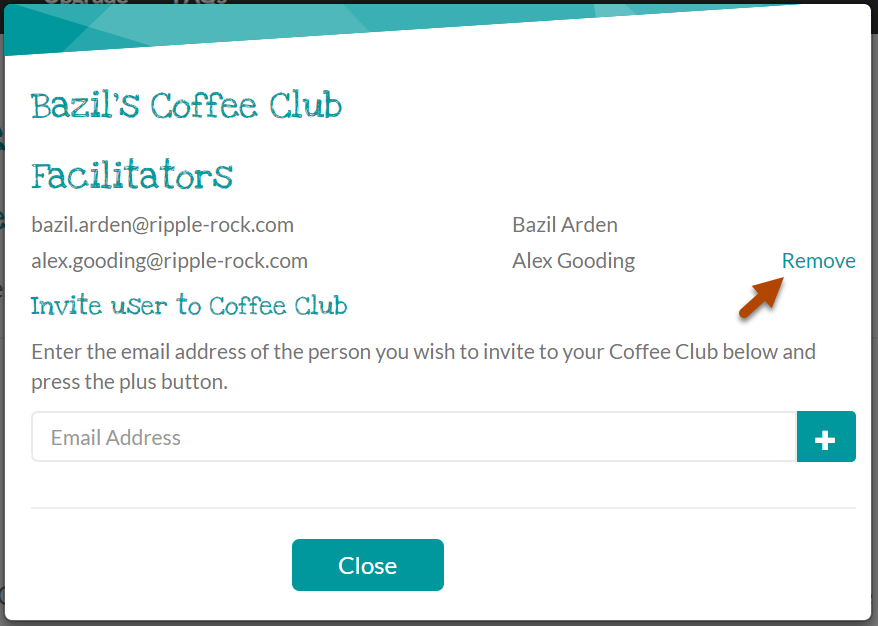 From Attendee to Facilitator
If you are an Attendee you can click 'Upgrade' to set-up a new Coffee Club. However, if you are in an organisation it is best to first check if there are other existing Coffee Clubs that you could be added to.
If there is already a Coffee Club for your organisation, we suggest you contact the owner and ask them to add you as a facilitator in their Club, rather than create another Club.
At the end of your trial
If you have been offered a free trial and would like to subscribe at the end of this trial. You may click the link on the trial reminder banner and enter your credit card details. You can do this at any point during your trial, your card will be debited and your subscription will begin once your trial comes to an end.
If you would like to change your plan prior to subscribing, Click on Upgrade and follow the instructions above to select the number of facilitators you require and the payment timeframe prior to adding your card details.
Changing the name of your Coffee Club
You may chnage the name of your Coffee Club at any time. Go the Account Admin page and click on the name of your Coffee club under Subscription Details. You may edit the club name in this field.