Distributing a Session Summary using Slack
Many Lean Coffee Table subscribers use Slack to facilitate their discussions. Lean Coffee sessions can be set up and distributed using Slack.
To create a Lean Coffee board in Slack, type the command "/leanmeet" followed by the name you would like to give to your board in the Slack channel of your choice. Anyone who has access to this channel will be able to follow the link directly to your board and will be signed into Lean Coffee Table using their Slack credentials.

Once your session is completed, you may generate a session summary. The session summary will be posted in the same Slack channel used to create and access the board. Anyone who has access to this Slack channel can download the summary.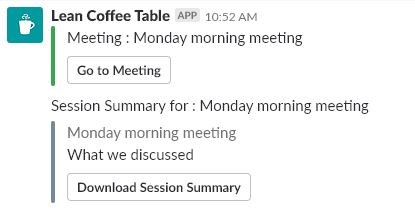 Click on the Download Session Summary link to download a .pdf document which details the topics discussed, who attended the session and the comments and actions added during discussion.