Logging in to Lean Coffee Table
Inviting people from the Board
Putting up a message for early or late arrivals
Logging into Lean Coffee Table
You can log in, as either an attendee or facilitator, using any of the methods below.
If you already have an account, just enter your details.
Alternatively, you will probably find it easier to use your Google, Slack or Microsoft credentials to log in with one click.
Note: If you already have an account we will try to match your existing registered email address with the one you have used to log in.
For example, if your registered email address is the same as the one you use for Slack. then you can start to use the one click 'Sign in with Slack' button instead.
If you use 'Create New Account', you will receive an email to the address you have entered with a verification code. You must enter this code before continuing to use the application.
Changing your password
You can change your password at any time from the Admin screen

Note: You cannot change your password if you have signed in using Slack, Google or Microsoft logins
Click on Change Password under 'My Account' and enter details of your old and new password.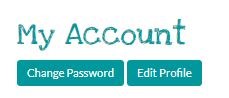 Editing your profile
You may change the name that Lean Coffee Table uses to identify you to your colleagues on the site. This name will appear at the top of your screen, on the boards you attend and in the session summary. Profile initials will be used to identify the author of topic cards and comments during a session.
On the Admin page, click Edit Profile and add a first and last name.
Privacy Policy and T&C's
When a new account is created, you will be presented with the Lean Coffee Table Privacy Policy and our Terms and conditions. You are required to read and accept these terms in order to use this application.
You may also opt in or out of an agreement to allow emails to be sent to you regarding new features and offers. You may unsubscribe at any time.
Creating the board
You create the board by clicking on 'Boards' in the top menu bar and then clicking on 'New Meeting'
Enter the board name

Decide whether to invite people by email (1) (they will need to have an account or register for one) or by sending them a URL (2) which enables them to login as a Guest, without registering for an LCT account.
The email address and user name of invited attendees with an LCT account, will appear in the list of Attendees.
If you want to ensure that only Invitees can attend your session, then click this button (3).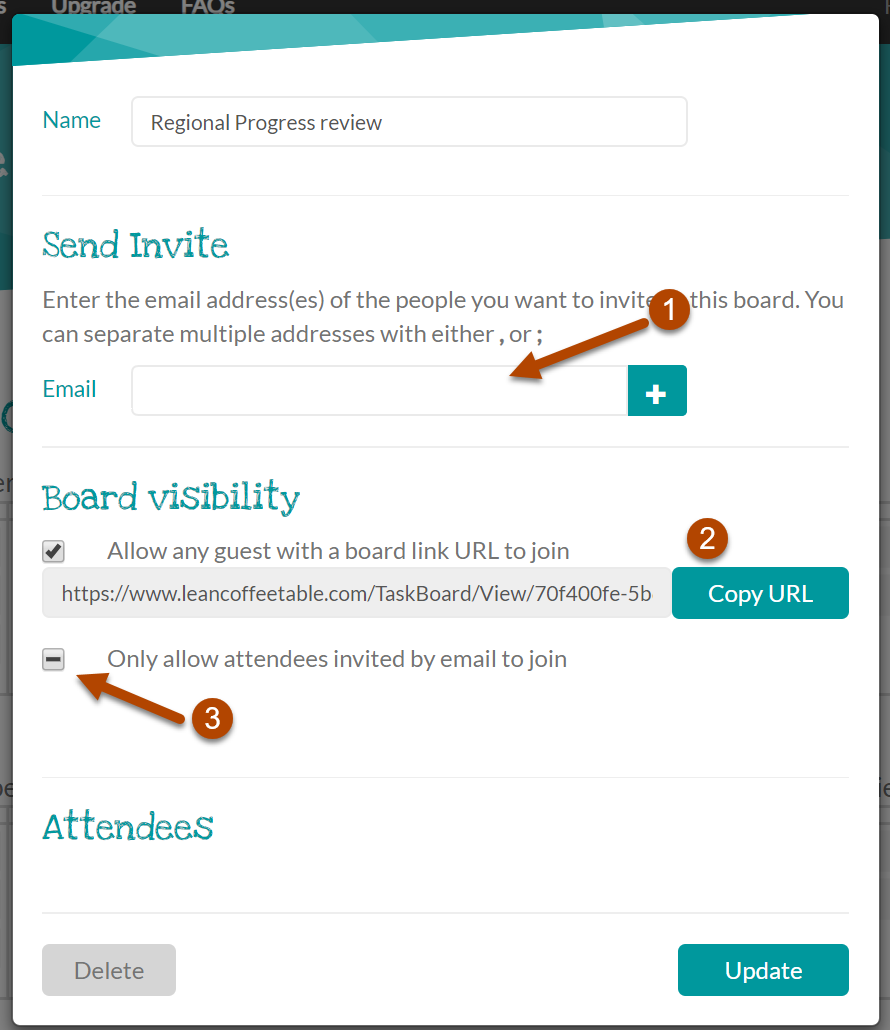 Inviting people from the Board
You can also invite people from the board itself, once it has been created.
You can invite people either as attendees or guests
Attendees
Click on the 'Invite Attendee' button to show the field to enter addresses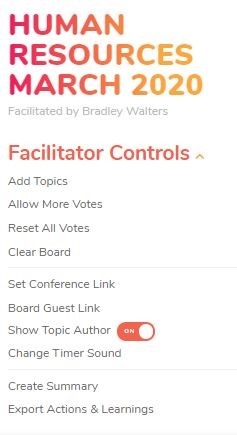 You can enter one or more email addresses into the 'send invite' box. Separate them with either a ',' (comma) or ';' (semi colon)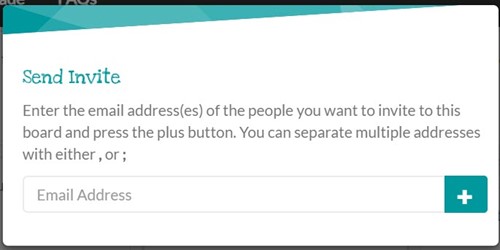 Guests
You can also invite guests to the board with a single link pasted into their browser. Guests only need to enter their name to gain access to the board, they do not need to sign-in with their email address.
Copy the link from the facilitator panel. Which will put the link into your clipboard for you to email or distribute to guests
https://www.leancoffeetable.com/TaskBoard/View/fd574c4d-7f42-46f1-8d1e-97be3dbdd2f?guest=true
Alternatively, you can get the Guest link from the board admin page
Click on the 3 dots next to the board title on the Boards page
Joining a session
You can join a session as either an attendee or a guest.
As an attendee you can click on the link in the email invitation that you receive or go directly to the board if you already have the URL
You will need to log in